I thought I would throw in a cooking post since I haven't been to creative lately. I made some roasted root veggies the other day and they were just awesome. It doesn't sound awesome, but the taste is so good. It's an easy way to get veggies into a meal as a base for sauce, eggs, or other protein.
I like them just as a side dish. It's easy to do and you can make a large pan ahead of time and they keep in the fridge for several days. You could freeze them too.
Roasted Root Veggies
Diced Veggies
3 diced carrots
1 Rutabaga
1 Turnip
1 Vidalia or Sweet onion
2 or 3 small to med. Potatoes
Olive oil
Sea salt to taste
Black Pepper-large grind or fresh ground  to taste
Prep the veggies. Wash, peel and trim the ends. I used this wonderful chopper from QVC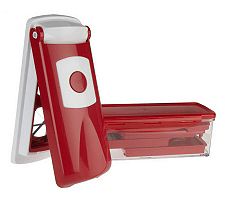 Use it to make the dices all the same size. This makes it cook evenly and the sugars caramelize all over the little square edges lol
Take a baking dish at least 13 x 9 and pour enough olive oil in it to coat the bottom of the pan generously. It' shouldn't deep fry the veggies, but just cover the bottom of the pan. Add a sprinkling of sea salt to the pan.
Place all the veggies in a bowl and drizzle about a 1/4 cup of olive oil over them, sprinkle liberaly with sea salt and black pepper. Toss well to coat the veggies in oil.
Place the veggies in the pan to make an even layer. Don't pile them high. Cover with aluminum foil and bake in a preheated oven at 400 degrees for about 20 min. Turn the oven down to 325 and cook an additional 20-30 min. Check the veggies after 20 minutes to see if they are getting golden brown. I even turn off the stove and just let them sit for a while to get really brown.
You can serve them right away or let them cool and save for another time. They make excellent hash with any leftover meat.
Great way to use the last few veggies you have leftover from a bag.
Enjoy.